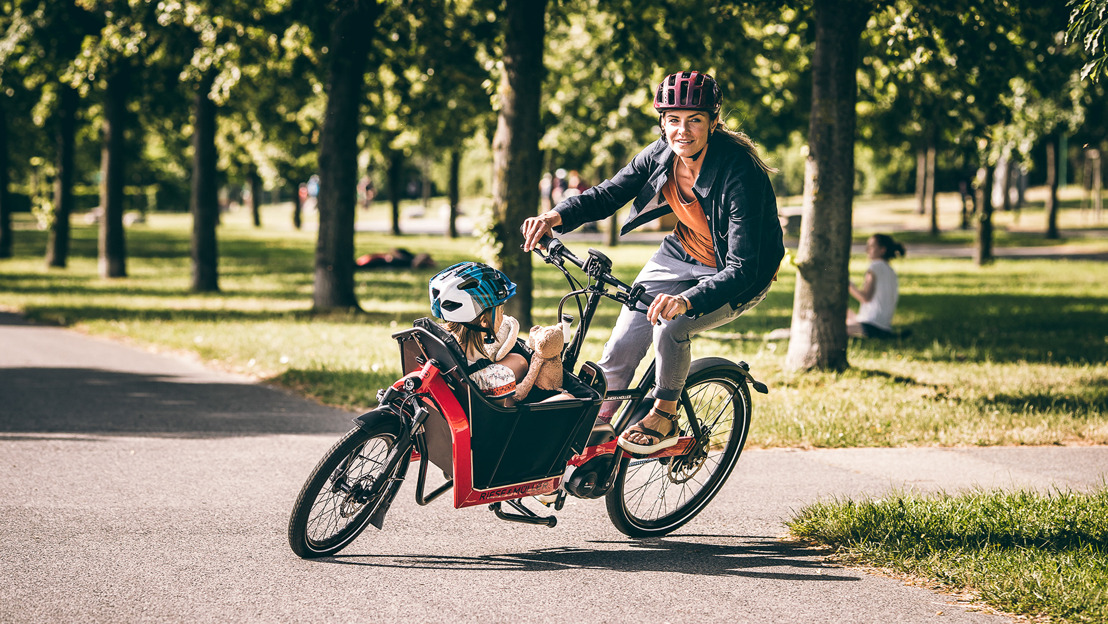 The Packster 40 from Riese & Müller: Big Utility, Smaller Package
The award-winning e-cargo bike that brings adventure, function and fun to everyday transportation
Monday, February 12, 2018 — There's a growing trend in cities around the U.S.: People, especially families, are turning to cargo bikes as an alternative to cars. While a lot of people love the idea cargo bikes, they are turned away because they're worried that the size and weight will make it feel unwieldy.
Enter the Packster 40: the perfect crossover model between an eBike and larger cargo bikes.
The Packster 40 is a compact pedal-assist eCargo bike that's changing the game for people who want to do it all on two wheels. With a manageable length of six feet and cargo width of 19 inches, this bike packs a lot of hauling power into a smaller package. It weighs less than 66 pounds (13 pounds lighter than the full-size Packster 60 model) so it's easy to maneuver, carry and store.
And the eye-catching design has made its mark: Riese and Müller recently won a coveted 2018 Design and Innovation Award for their 'less is more' approach with the Packster 40. An international panel of industry experts named the bike the best and the most innovative for the Urban Bike Category. Calling it "the ideal cargo bike for everyone who's ever considered a cargo bike too big."
Just like its bigger, full-size siblings - the Packster 60 and the Packster 80 - this rig has customization options that make it stand out from other cargo bikes. One of the standout accessory options is a child seat that can easily be folded down into the footwell of the box, creating a sizable cargo area in an instant.
The Packster 40 is ideal for those living in urban areas, daily commuters, bike-packers, and many others looking for a fun way to travel and explore while carrying whatever they need.
What makes the Packster 40 different from other eCargo bikes?
Variable model options: Customizable components and accessories to fit any riders' needs. The standard set-up comes with a platform, with an option to add a crate or Carry System and even an optional child seat and innovative glove compartment.

Optional Bosch DualBattery system: Upgrade from the standard 500 Wh battery to a 1,000 Wh DualBattery system and double the distance between charges. With the DualBattery, the second battery is mounted behind the cargo surface in order to keep the bike's center of gravity low and to maintain the excellent riding behavior. DualBattery technology offers up to 100-mile riding range on a single charge.

Bosch Performance: Two motor options for a pedal assistance that reaches speeds of up to 20 mph or up to 28 mph.

Compact size: Unlike many cargo bike models, the Packster 40 fits on select car rack models for excursions.

Customization: Every Riese & Müller bike is custom built to order at the company's headquarters in Frankfurt, Germany.
MSRP: $5,829 (starting)