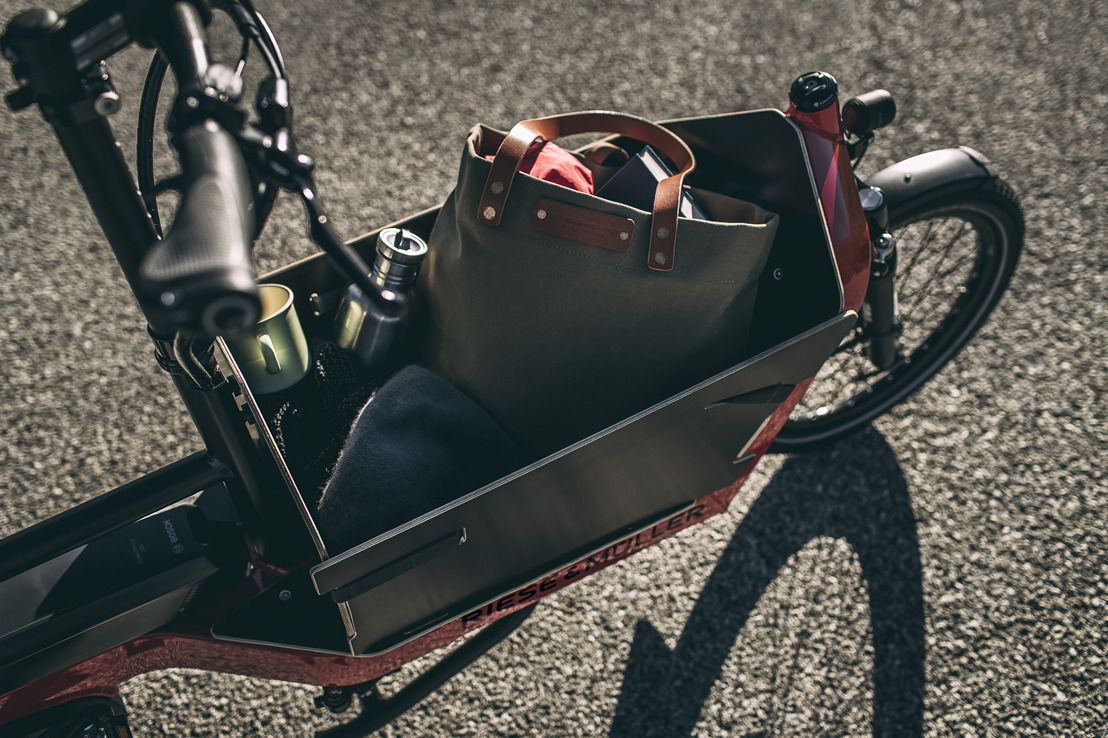 How a Love of Handbags Inspired the Style of an e-Bike
The Stylish Packster 40 e-Bike from Riese & Müller: Smaller Package, Plenty of Cargo Space
Thursday, April 12, 2018 — One thing Sandra Wolf loves is handbags. Nice handbags. And as the CEO of premium German e-Bike manufacturer, Riese & Müller, she's often on the bike. She got tired of crumpling her nice handbags into a side bag or rack.
Wolf's love for handbags and bikes inspired the design of Riese & Müller's Packster 40: a smaller, lighter and more maneuverable e-bike with a front cargo area that's the perfect size for a handbag (and even for a small child or pet).
E-cargo bikes are growing in popularity (and US e-Bike sales grew more than 50% in 2017). E-Cargo bikes create new possibilities for urban mobility, from the commute to school drop-offs to crossing town for brunch and a visit to the market, without the need to get in a car or use public transportation.
The feeling of riding an e-Bike is liberating. It's easy to cover a lot of ground without breaking a sweat. And with an e-Cargo bike, you never have to worry about picking up that extra item, because you have the space for it, and because the ride will still be comfortable with a "pedal-assist" electric motor (power increases as you pedal) helping you along while giving you a refreshing amount of activity at the same time. Arrive in style and feeling great (and park right where you need to be).
For 25 years, Riese & Müller has been designing some of the world's best e-Bikes, and the company has seen 50% sales growth year-over-year since 2012. From full-size and full-suspension e-Cargo bikes like The Load (which can carry up to 200 lbs worth of cargo) to off-road bikes like the Supercharger MTN and folding bikes.
The Packster 40 is one of Riese & Müller's newest e-Bike models, and is a perfect choice for the style-minded family or individual looking for a fun and functional means of urban transport. The Packster 40 builds on Riese & Müller's successful line of larger e-Cargo bikes including The Load, Packster 60 and Packster 80.
What makes the Packster 40 different from other eCargo bikes?
Variable model options: Customizable components and accessories to fit any riders' needs. The standard set-up comes with a platform, with an option to add a crate or Carry System and even an optional child seat and innovative glove compartment.

Optional Bosch DualBattery system: Upgrade from the standard 500 Wh battery to a 1,000 Wh DualBattery system and double the distance between charges. With DualBattery, the second battery is mounted behind the cargo surface in order to keep the bike's center of gravity low and to maintain the excellent bike handling. DualBattery technology offers up to 100-mile riding range on a single charge.

Bosch Performance: Two motor options for pedal assistance that reaches speeds of up to 20 mph or up to 28 mph (HS - high-speed option).

Compact size: Unlike many cargo bike models, the Packster 40 fits on select car rack models for excursions.

Customization: Every Riese & Müller bike is custom built to order at the company's headquarters in Frankfurt, Germany.

Available in Red and Light Grey.
MSRP: $5,829 (starting)